PyCon UK 2016 - A conference, cat-flaps and education
Wow, what an amazing conference! I've been to countless conferences over the years and none has been anywhere near as enjoyable as PyCon UK 2016. It stands out for a number of reasons that other conferences could learn from. Not only was it fun, but it was tremendously useful and, in all honesty, inspirational. There was definitely an overwhelming vibe of friendliness throughout the weekend; people were eager to chat and share ideas, opening up thoughts of collaborations and unexpected 'have you thought about?' opportunities. Here's a summary of what went on.
Python Cat Flaps
My talk, "Python Cat Flaps", gave a light hearted introduction to creating Internet of Things (IoT) gadgets with Python and showcased The Things Network, which is bringing low cost, low power, community-owned networks for data gathering and remote control.
The Things Network is a project close to my heart at the moment (I'm in the process of getting Things Network Oldham up and running), so it was especially gratifying to discover that, by the time I got home on Saturday, one of my audience had already set up the Things Network Cardiff, as a direct result of my talk!
Fancy a PyCon talks binge?
Attendees at Pycon UK 2016 were definitely spoilt for choice when it came to the talks on offer. Happily, the generous volunteer organisers have now made all of the sessions available online, so you can catch up on any that you missed. My personal recommendations would definitely include:
The last one struck a chord with me personally, as it brought back memories of similar issues (and solutions) faced when creating and deploying the CodeBug website.
PyCon UK & Education
Computing education was a hot topic at this year's PyCon UK and one key theme was how people (both learners and teachers) need encouragement and need to see progress. This concept is something we're familiar with at OpenLX SP Ltd, as it was the inspiration behind our CodeBug device (for teaching coding to beginners) and our other education resources. Just like Python, it's easy for beginners to see positive results from their initial effort.
Regarding how to shape the future we want to see through PyCon UK and the Python community, Nicholas Tollervey summed up the challenge well last year:
"Asking what sort of education and learning our community supports is how we decide what sort of community we become. For it is through education and learning that we engage with our future colleagues, friends and supporters."
So what sort of community do we want to become and what are the key things that we need to do achieve it?
Firstly, if we want to encourage and inspire the developers of the future, we need to see more developers collaborating with teachers and learning from each other's strengths. Working with the youngsters, witnessing their progress and seeing their potential, should encourage developers to get more involved in education and truly make a difference to individuals and the community as a whole.
We need to remove barriers to delivering quality education. Broadly, this means creating two environments: (1) An unintimidating, safe space for teachers to acquire the knowledge and skills needed to deliver computing lessons with confidence; and (2) a suitably planned and equipped classroom to allow those lessons to take place free from the frustrations of poor timetabling, unresponsive technology or restrictive IT policies.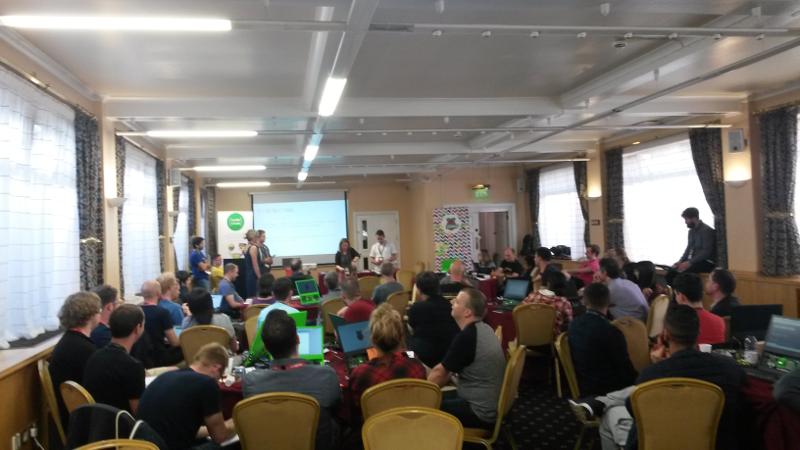 As one of the volunteers helping the Raspberry Pi education team at the conference, I was reminded how rewarding education is; seeing youngsters start the day having never coded and ending it going on stage showing what they've made, what they'd learned to code themselves and buzzing with more things they wanted to make. It almost made me miss teaching Computer Science to undergrads at the University of Manchester!
Education is the key to creating the snowball effect the community is looking for. Better education of teachers leads to better education of learners, which creates more developers and new ideas… which all creates a bigger and higher performing community. Win-wins all round.
For more thoughts on PyCon UK, why not check out Laura Sach's "Code? Boom!" Blog?
Nightclubs and good night's sleep don't mix
The only fly in the ointment all weekend was a poor choice of hotel on my part. Unbeknown to me, Travelodge Cardiff Queen Street is sadly situated opposite one of the city's most popular (and noisiest) clubs… with a 4am licence (even on a Wednesday) and virtually no sound insulation. Following complaints, Travelodge's website now states "some external noise can be heard", but that doesn't really do full justice to the pounding bass that made its way through 5 layers of glazing and earplugs into my head. Not exactly the best preparation for my talk at midday on Thursday!
The future's bright
PyCon actively works to be inclusive. And this is absolutely genuine. Practical matters like a creche, a code of conduct and a varied program of talks ranging from teaching computing in education, to neurodiversity looking into autism and the human mind to how companies can deploy Python. While PyCon UK does already provide bursaries for teachers to cover the cost to attend, perhaps these could be extended for those able to demonstrate that they had financial challenges?, PyCon UK apparently distributed £4000 to help those with financial challenges attend the conference. Obviously I missed it (maybe because I wasn't looking to find it), but that's really good news.
All in all, PyCon UK was a fantastic experience and one I wouldn't hesitate to recommend to anyone in the Python community. Many thanks to the organisers for inviting me to speak at the conference and for all the work that goes on behind the scenes. I'm already looking forward to attending future PyCon events. When's PyCon Europe again?