After three years of development, and following successful funding of more than £18,000 on Kickstarter, CodeBug – the new, cute, programmable and wearable device for teaching and learning coding and electronics – is stepping out into the big, wide world of mainstream development thanks to distribution partner, element14.
Aimed at complete beginners, CodeBug is so easy to use that anyone can get started – and complete their first program – in just a few minutes. Users need only a web browser to get started. The CodeBug website features colourful drag and drop "Blockly" coding blocks and an in-browser emulator to test the code. The website also features a number of interactive tutorials, as well as fun activities, such as a scrolling name badge or fruit keyboard.
Designed to get kids into coding, CodeBug is also perfect for teachers and parents, because it is so simple to use, with no complicated set-up and no software or drivers to be installed. Retailing for just £15 (inc. VAT), CodeBug features a Microchip 8-bit processor, a 5x5 red LED display, 2 buttons, micro-USB connector, 6 touch sensitive I/0 pads (for easy connection to inputs and outputs via crocodile clips, etc.) and expansion ports for I2C, SPI and UART. It is compatible with Windows, Mac and Linux, as well as devices such as the Raspberry Pi.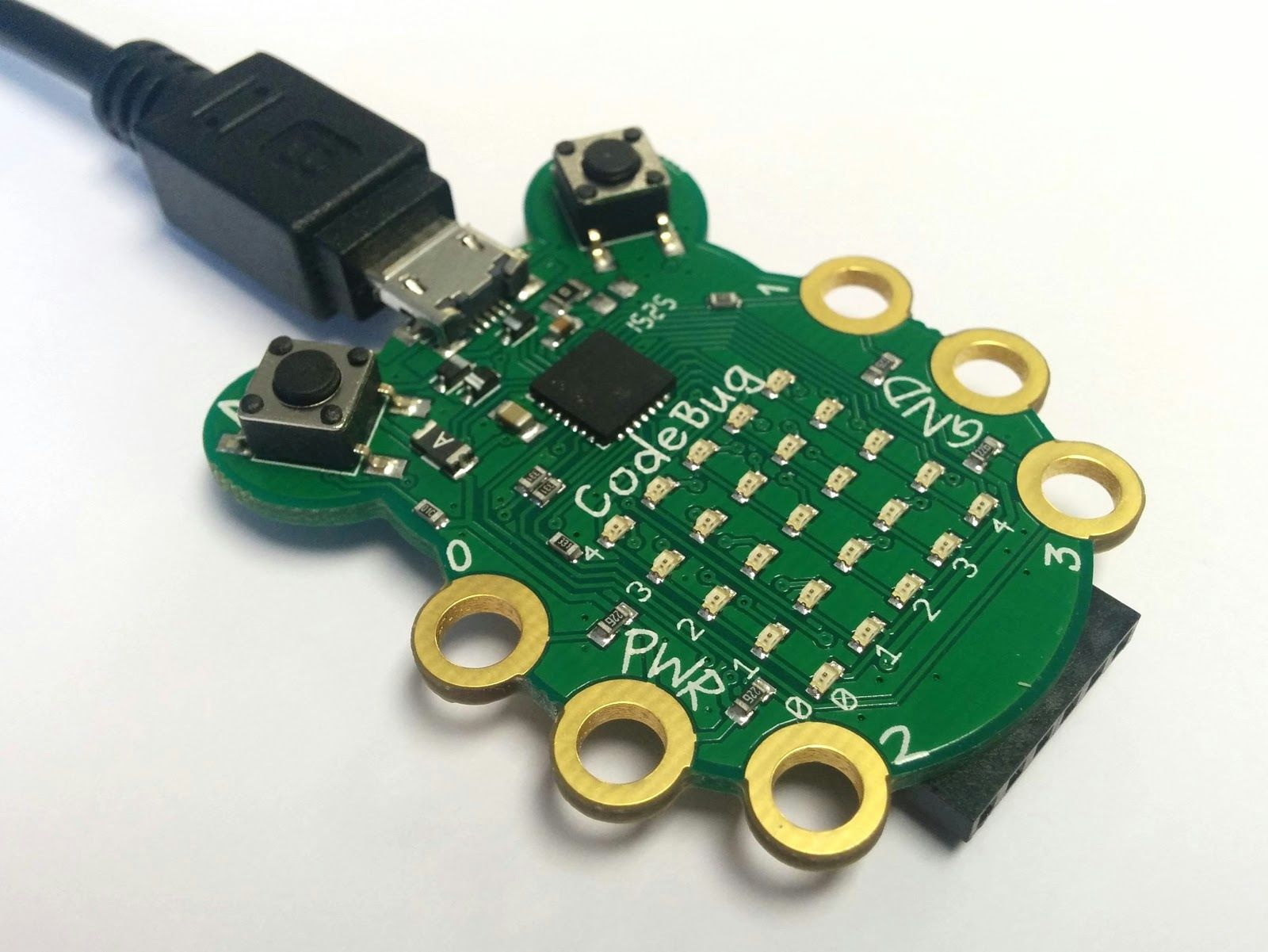 Dr. Andrew Robinson, CEO of OpenLX and designer of CodeBug, said:
"CodeBug is about bringing technological creativity to everyone, even absolute beginners, and inspiring the next generation of customer programmers and engineers through fun activities".
David Shen, Group Chief Technology Officer at Premier Farnell, had the following comments on the launch:
"Through its simplistic yet inspired design, CodeBug is opening up electronics to a whole new generation of beginners and young engineers. Having watched this product grow from a seedling idea on a Kickstarter page through to a final solution for customers, we at element14 are very proud to have been selected as the exclusive distributor of this brand in collaboration with our partner Dr. Andrew Robinson".
CodeBug is available for £12.50 (plus VAT) from Farnell element14 in Europe, Newark element14 in North America and element14 in Asia Pacific. For further information visit: http://www.element14.com/codebug
About OpenLX SP Ltd
Based in Oldham (Manchester), UK, OpenLX are passionate about creating high-quality, easy-to-use tech devices that make teaching and learning coding simpler and more accessible, as well as running coding workshops and generally getting people excited about computer programming. In addition to CodeBug, OpenLX are also the brains behind PiFace (the best-selling add-on for Raspberry Pi boards) and MicroStack.
About the Premier Farnell Group
Premier Farnell plc is a global leader in high service distribution of technology products and solutions for electronic system design, production, maintenance and repair. Trading as Farnell element14 in Europe, Newark element14 in North America and element14 across Asia Pacific, it had sales last year of £960m. The Group is supported by a global supply chain of more than 3,000 suppliers and an inventory profile developed to anticipate and meet its customers' needs.